"Come, I'll carve upon your flesh, just how hopeless the very thought of defeating me really is." -Seelkadoom the Hedgehog
Seelkadoom el erizo
Edit
Seelkadoom el erizo es un personaje creado por MidNightMaren basado en los personajes del mundo de Sonic. Seelkadoom es la creación del
Dr. "Eggman" Robotnik
usando el ADN de
Sonic
Y
Shadow
, sus datos de batalla, manipulando la energía del Caos y la ayuda de la Esmeralda Caos y la Esmeralda Maestra. Él es el antagonista principas de la serie Sonic RPG. También es capaz de usar el poder de Shadow Control Caos.
Patatas y perritos con Cola son su comida favorita.
Creación y Apariencia
Edit
Al ser una creación basada en el ADN de Sonic y Shadow, Seelkadoom tiene el aspecto mezclado de ambos. El color principal de su cuerpo es negro, con las espinas que tienen la misma forma que las de Shadow, pero color azul en lugar de rojo. Sus espinas inferiores también están apuntadas hcia abajo.
Sus guantes y zapatos tienen la misma forma que los de Sonic, pero en lugar del rojo típico en los zapatos, son de color gris claro.
Sus brazos y el vientre tienen el aspecto de los de Sonic, pero en lugar del color típico en el último, son de color dorado.
El color de sus ojos cambia a lo largo de la serie. Aunque al principio tienen un brillo ligeramente rojo dentro del iris azul, pronto cambian a un azul entero con un iris negro.
MidNightMaren compartió con sus fans que la creación de Seelkadoom vino con la necesidad de un personaje original para su serie, y que el diseño de Seelkadoom vino más tarde con la idea de un clon de Sonic y Shadow. Sin embargo, en lugar de simplemente ser un clon, le dio una personalidad profunda y un papel importante en la serie, dejando atrás a Eggman (el principal antagonista hasta ahora) para la mayoría de la serie.
Personalidad
Edit
Seelkadoom tiene la personalidad de Sonic y Shadow. A lo largo de la serie, Seelkadoom muestra las características específicas de Sonic, y la manera fría de burlarse y provocar a sus enemigos. Sin embargo, su personalidad más viciosa viene a ser cuando se enoja o cuando desafía, más como Shadow, pero en un comportamiento mucho más destructivo. Su obsesión por el poder también se muestra cuando amenaza a Reala con matarlo.
Esto se muestra principalmente en el episodio 8, donde Seelkadoom habla con Sonic y Shadow libremente, haciendo bromas a lo largo de la conversación. Sin embargo, poco después, cuando Sonic y Shadow toman la delantera en la pelea, explota de rabia y cambia el resultado lo suficientemente rápido, mostrando un inmenso poder y una velocidad imparable.
Poderes y Abilidades
Edit
Seelkadoom es probablemente el personaje más fuerte hasta ahora en la serie, superando incluso Super Sonic y Super Shadow combinados, incluso cuando parece que el dúo tiene la ventaja en la lucha. Hasta ahora ha sido invicto, incluso ha demostrado masivas técnicas de contador de velocidad inmensa (superior a la velocidad del sonido) y también ha demostrado invencibilidad. (Mostrado en eps 8 cómo se refleja la mayoría de las explosiones), también pasa a tener todas las Esmeraldas Caos con él, con ellas supera a Sonic, Shadow y Knukles combinados.
La velocidad de Seelkadoom está emparejada con la de Sonic y si no es superior. Esto se muestra en el Episodio 8, cuando Seelkadoom alcanza a Super Sonic, a velocidad de la luz aparentemente sin esfuerzo.
Combat Skills and Physical FeatsEdit
Most of his power seem to have the use of Chaos Energy, like charged Chaos Spear and offensive Chaos Control, which enhances his basic attacks in combat, however even without this, his basic attacks seem to be strong enough to break concrete walls and send powerful foes, like Shadow, flying with a simple kick. Seelkadoom seems agile enough to surpass even Sonic in agility and acrobatic prowess, displaying amazing reflexes even when stunned by strong attacks. Even if not used often, Seelkadoom displayed the ability to use Spin Dash, at amazing speeds and power. His speed, power, and quick reflexes show that he is almost invincible.
Special AbilitiesEdit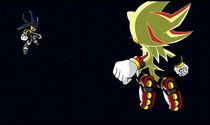 Seelkadoom is seen using mostly abilities used by other characters along the series (mostly Sonic and Shadow), mainly based on Chaos Energy. He is seen using Spin Dash, Chaos Spear, Chaos Control, Chaos Blast, and his most damaging attack, Dark Blast. However, he has many skills of his own, mainly using other Chaos powers as a basis, like Chaos Meteor, which seems a variation of Chaos Spear, where the charged energy is fired at the sky, which falls soon after on his foes. His signature technique is Dark Blast.
He also displays the ability to use telekinesis to move stone pillars, also using his speed to easily toy with Shadow and easily defeat him in a single hard blow.
He has the ability of flight, which is an ability displayed only by characters in Super form, and characters from Herbegitan. This is because in his creation, Eggman used the Chaos Emeralds, and some of their power still remains on Seelkadoom, giving him the ability to fly.
TransformationEdit
Although Seelkadoom hasn't displayed any Super Form yet, it is possible he is able to obtain one with the 7 Chaos Emeralds. In the Episode 9 trailer, Seelkadoom is seen with the Chaos Emeralds. It is possible he may not have a Super form, and may be able to simply use the Chaos Emeralds power in his normal form. In this same trailer, Seelkadoom is seen with the Emeralds in Herbegitan, which shows he had them since the beginning of the series and is unstoppable with the Emeralds.
Weaknesses
Edit
Seelkadoom does not seem to have any relevant weakness, but has shown been shown to be weak only once in Episode 3 and 5. His control over his abilities seems a little weak, or it could also be as to make Sonic think that he had defeated him. He also seems fairly tired when he is fighting Sonic and Shadow in Episode 6; even the Dark Blast didn't kill them, although this was just a dream (Or more likely, a near-death experience).
Ad blocker interference detected!
Wikia is a free-to-use site that makes money from advertising. We have a modified experience for viewers using ad blockers

Wikia is not accessible if you've made further modifications. Remove the custom ad blocker rule(s) and the page will load as expected.